You can download my full paper "If Wages Fell During a Recession" with Dan Houser from the Journal of Economic Behavior and Organization (only free until September 24, 2022).
There is a simulated recession in our experiment. We ask what happens if employers cut wages in response. Although nominal wage cuts are rare in the outside world, some of our lab subjects cut the wages of their "employee". Employees retaliated against nominal wage cuts by shirking, such that the employers probably would have been better off keeping wages rigid.
We also tried the same thing with an inflation shock that allowed the employer to institute a real wage cut without a nominal wage cut. The reaction to that real wage cut was muted compared to the retaliation against the obvious nominal wage cut.
I blogged about the experiment previously, so I won't go into more detail here.
The Great Recession happened when I was an undergraduate. As I started my career in research, the issue of employment and recessions seemed like THE problem to work on. The economy of 2022 is so different from the years that inspired this experiment! Below I'll highlight current events and work from others on this topic.
Inflation used to be something Americans could almost ignore, and now it's at the highest level I have seen in my lifetime. Suddenly, people are so mad about inflation that politicians named their bill the Inflation Reduction Act just to make it popular.  
The EWED crew has made lots of good posts on inflation. Although job openings and (nominal) wage increases are noticeable right now, Jeremy explored whether inflation has wiped out apparent wage growth.
More recently, the WSJ reports that real wages are down because inflation is so high. "Wage gains haven't kept pace with inflation. Private-sector wages and salaries declined 3.1% in the second quarter from a year earlier, when accounting for inflation."
Firms in 2022 did not just sit back and let real wages get eroded exactly proportional to inflation. But it is also not the case that Americans got a raise of 9% to exactly offset inflation. According to our experiment, there would be outrage if workers were experiencing a nominal wage cut in proportion to the real wage cut they are getting right now.
The high inflation combined with a hot job market makes this current economy hard to compare to anything in our recent history. Brian at Price Theory explained that inflation pressure is coming from both supply and demand factors.
Joey has a nice graph on inflation composition.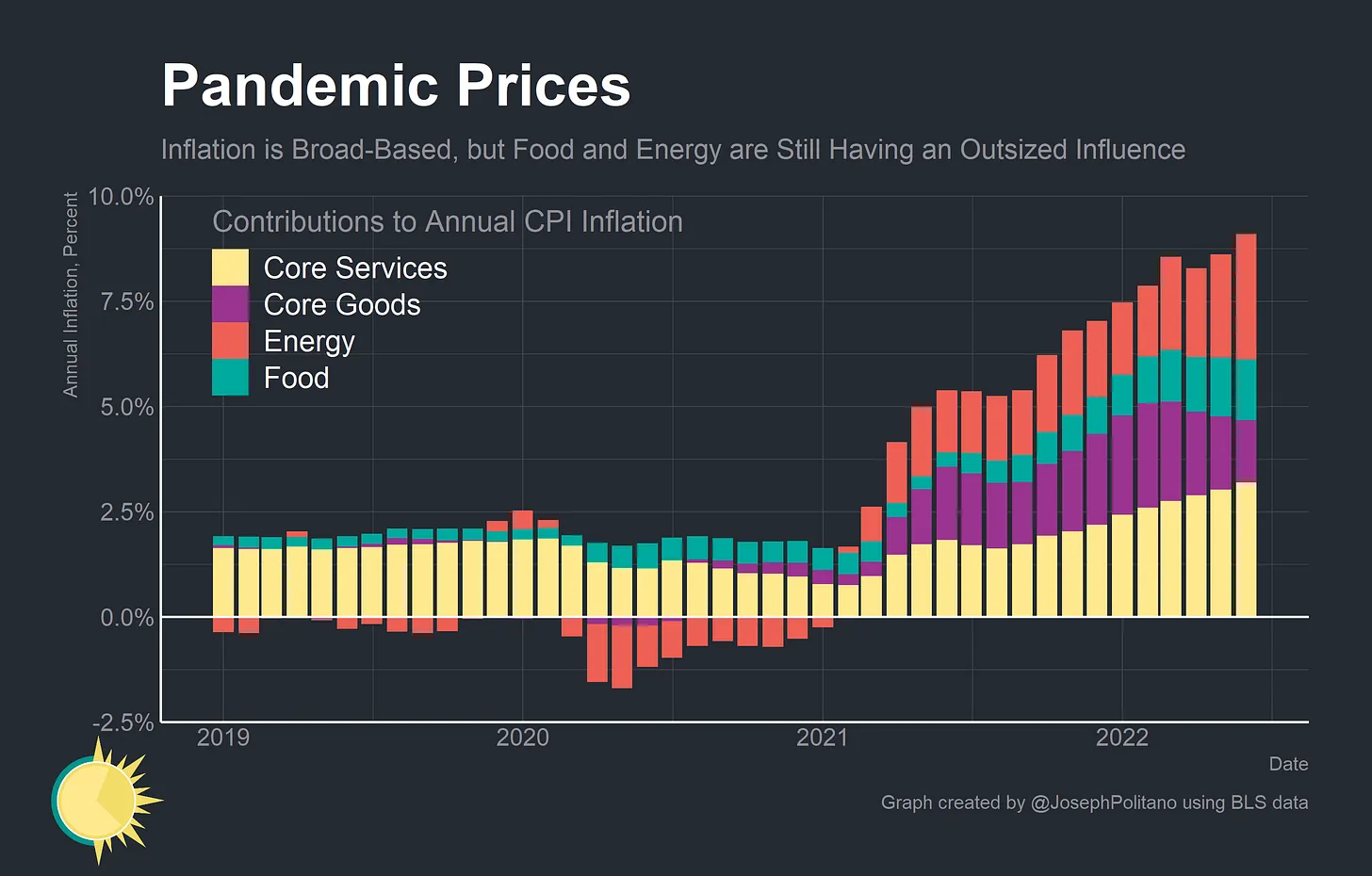 Did anyone see this coming? Watch Jim Doti of Chapman University predict high inflation based on the money supply in his forecast back in July 2021.
Lastly, our experiment on wage cuts has been cited in these papers:
Intentions rather than money illusion – Why nominal changes induce real effects
Economic stability promotes gift-exchange in the workplace
Wage bargaining in a matching market: Experimental evidence
Can reference points explain wage rigidity? Experimental evidence