Late October is a nice time to get outside in Alabama. I have answered the primal call to suburban moms and signed up for a 5K running race at the end of the month. To make running practice safe and fun, I dropped a few hundred dollars this month on products.
Now that I'm old, my first concern is not injuring myself. Having good new shoes that absorbs some of the impact from running is important. I went to a local running store and ended up getting Asics Gel Nimbus.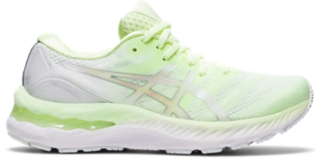 I really like them. Amazon link. It seems like the price ($150) in the boutique store and the Asics website and Amazon is all the same.
Assuming you are not considering getting these shoes for yourself, do not buy a woman running shoes for Christmas, obviously, unless you've discussed it with her. You could buy a family member the other big purchase I made for running: AirPods.
Many people already have AirPods but I'll review them anyway. I bet there are at least 10 people out there just like me who view them as newfangled and unnecessary.
My primary reason for getting them was so that I can listen to music while I run and not have the annoying headphones cord in my face. They are great for running. By the way, I got the cheapest version since I only use them occasionally.
AirPods are more than wireless headphones.  They are smart. They allow you to take hands free phone calls when your phone is two rooms away (which can be a reason to keep them in even when you are not listening to music). They respond to voice commands and prompt you on what to say. Maybe I shouldn't be, but I was surprised by how easy it was to start using them.
I use a free application called RunKeeper. Without any fiddling from me, the AirPods give me useful feedback on my run from RunKeeper. I don't have to stop the music or pull out my phone to get this feedback. It just knows, and the AI is correct about what I want to hear when.
While I was at the Apple store getting AirPods, I considered getting an Apple Watch. It turns out that the Apple Watch does not have a long range from the phone. So, I cannot run a mile away from my phone and still get all services on the Watch. Since I'm not a serious runner, I did not want to spend hundreds of dollars on a new watch plus pay for a separate cellular plan for the device. I run while holding my small-ish iPhone.
Apple Watch records your heart beat. I can be a privacy grump, even though I use a lot of tech. Apple Corp. can C it's way right out of my vital signs. I don't even want data on my heart rate and sleep patterns, for myself. I'm already mentally overloaded, so I don't want more data to think about.
Here's a song I like to put at the beginning of my running song playlist: https://www.youtube.com/watch?v=FxmkYugYu7Q
Lastly, for your holiday shopping list, I will make one plug for the shirts in our Blog Store. These make a fun gift for math majors or Econ Ph.D. folk.