In the post-WW2 era, by many different measures the US economy performed better before about 1970 than after. You can apparently see this in many different statistics. For example, the productivity slowdown is a well-known and well-studied phenomenon. And even given the productivity slowdown, median wages don't seem to have kept pace with productivity growth.
I think there are good reasons to doubt these particular statistics. For example, on wages and productivity see this working paper by Stansbury and Summers.
But even considering all these criticisms of the statistics, we do observe that overall GDP growth has been slower since about 1970. Why might this be?
In an NBER summary of his research, Nicholas Muller argues that a big part of the GDP growth slowdown is because we aren't including environmental damage in the calculation. This is not a new argument (Muller is an important contributor to this literature), and the exclusion of environmental damage is a well-known flaw of GDP, but Muller's paper does a great job of quantifying how much we are mismeasuring GDP. The following figure is a nice summary of what GDP growth looks like when we consider environmental damage.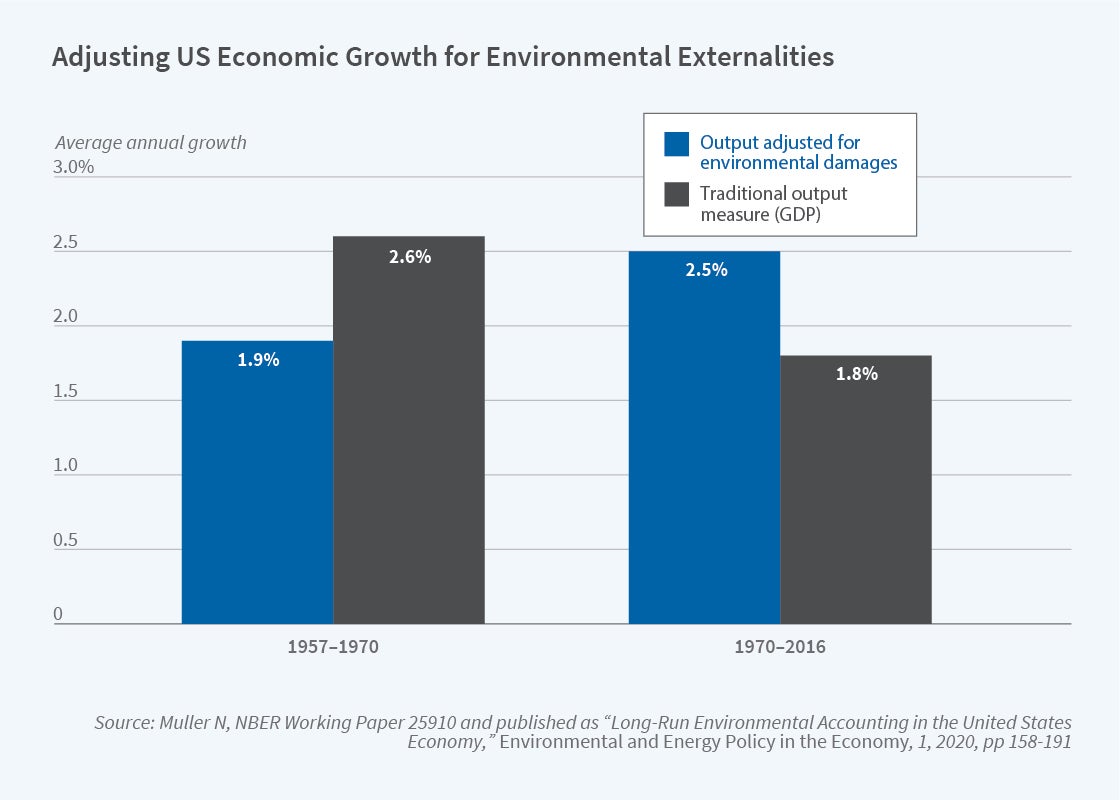 If we use the standard measure of GDP, growth indeed slowed down after 1970. If instead we augment GDP for environmental damages, the period after 1970 was actually faster! The adjustment both slows down growth from 1957-1970, and speeds up growth after 1970.
There are lots of things we can draw from this, but if the results are close to accurate, there is a clear implication: environmental regulations (such as the Clean Air Act) do reduce GDP growth, as traditionally measured. So the skeptics of regulation are partially right: regulation reduces growth!
However, this seems to be a clear case where standard critiques of GDP (as you can find in just about any Econ 101 textbook — yes, really!) need to be incorporated into the complete cost-benefit analysis of the impacts of environmental regulation.